The constant, enthusiastic support of our patients is fundamental in motivating us to continue dedicating all our efforts to offer couples the best possible treatments and with the support they need when undertaking a complex process like Medically-Assisted Procreation.
We have therefore decided to share their valuable testimonies, not merely because they are important to us but also to encourage those couples who are having difficulties in coming to terms with the demanding journey of MAP.
Ai futuri mamme e papà … Decidiamo di iniziare così questo nostro messaggio Read all
La nostra storia è una storia di speranza e di emozioni e ve la raccontiamo partendo dalla fine, dal lieto fine: abbiamo due bellissime bambine.
Ma partiamo dall'inizio…. Read all
Che soddisfazione queste recensioni su FB!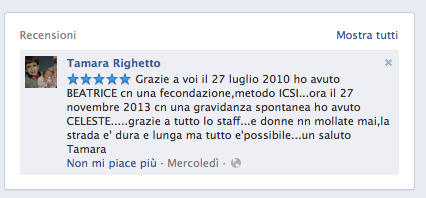 E-mail Renzo Silvi 21 February 2014
E-mail Sara 10 January 2014
E-mail Mrs. Cesaretti October 2013
E-mail Lorenzo's Mum  June 2013
E-mail Sara 11 March 2013
In addition, positive feedback, criticisms and negative opinions are also very useful when we think about our work, and for improving and offering our patients a service that becomes more effective and efficacious every day.
Giving couples clear and exhaustive information and explanations is of paramount importance, this is why we have decided to publish our experts' answers to certain negative comments on our work.
Forum Alfemminile.com Giugno 2013